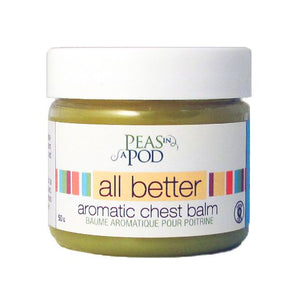 Peas in a Pod - Baby & Me Aromatic Chest Balm
 The All Better Synergy has been added to a base of Olive and Castor oil. This rub is comforting and effective for clearing stuffiness due to colds and flu. 
Flu season essential!
We've been using this pleasant rub for years. It soothes sore throats and alleviates stuffiness so the kids can get a nice sleep.
---
We Also Recommend
---