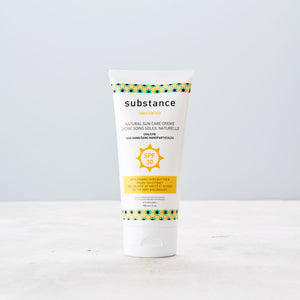 Substance Natural Unscented Sunscreen
Made in Canada by Matter Company, Substance Natural Unscented Sunscreen is simple, effective and chemical-free. It keeps delicate skin protected by creating a natural physical barrier to protect against the elements. Natural oils of shea butter, sesame seed and jojoba oil offer added sun protection, while moisturizing and soothing sensitive skin. Our botanical blend of organic calendula, grapeseed and green tea extract cool and soothe over-exposed skin. Water resistant, this formula is safe for adults and children of all ages.

Details:
Active ingredient of 20% micro-ionized zinc oxide acts as a physical barrier to protect against UVA and UVB rays
Non Nano and uncoated zinc oxide particles
Natural sunblock offers broad spectrum UVA/UVB protection without harmful, skin irritating chemicals found in most commercial sunscreen ingredients
Provides protection for up to 80 minutes in the sun
Equivalent to an SPF 30
Water resistant, and safe for kids
Shea butter and jojoba oil moisturize while offering added protection against the sun
Calendula flowers soothe and heal sensitive skin
Made in Canada
Active Ingredients:
Zinc Oxide 20%.
Ingredients: Water, helianthus annus* (sunflower seed oil), isoamyl cocoate, glycerin (vegetable), leuconostoc (radish root filtrate), calendula officinalis* (pot marigold) flower, hypericum perforatum* (St. John's Wort) flowers, glyceryl stearate (vegetable emulsifier) sesamum indicum* (sesame) seed oil, butyrospermum parkii*(Shea Butter), cetyl alcohol, bentonite, simmondsia chinensis* (jojoba) seed oil, tocopherol, xanthan gum, vitis vinifera* (grape) seed extract , camellia oleifera* (green tea) extract. *certified organic

Calendula Flower: powerful skin healer; anti-inflammatory; anti-fungal; anti-microbial; astringent; good for irritated skin, burns and redness.


Geranium Essential Oil
: safe essential oil for baby; calming, relieves anxiety; antiseptic; healing; natural insect repelling properties; anti-inflammatory.
Grape Seed Extract
: anti-oxidant, healing, anti-inflammatory.
Green Tea Extract
: anti-oxidant.
Lavender Essential Oil
: calming, anti-septic, healing, helps to induce sleep, natural insect repelling properties, safe for babies.
Shea Butter
: humectant, highly moisturizing, natural sun screen.
Zinc Oxide
: sun block, protects against UVA/UVB rays, water resistant, anti-inflammatory, anti-bacterial.
How To Use:
Apply liberally on exposed skin and reapply at least every 2 hours. Reapply after swimming or sweating. Reapply immediately after towel drying. For children under 6 months, please consult a physician.
All Substance Sunscreen products are the equivalent to an SPF 30 and are safe for infants 3 months and up
It is always recommended to do a patch test before using
Apply liberally on exposed skin
Mineral sunscreens will often leave a white residue. This white residue is the active zinc oxide, which acts as a reflector to the sun's rays. To reduce the whitening effect, rub in, until the whiteness dissipates
Apply at least every 60-80 minutes and reapply after swimming or rigorous activity
Mineral based sunscreens take immediate effect; there is no lapse time between application and effectiveness
For sensitive skin, it is recommended to do a patch test by placing a small amount of our sun care cream on the back of the wrist. If redness appears, wash with soap and water and discontinue use
If separation of product occurs, shake well, or knead tube to remix product before using
WARNINGS:
For external use only. If rash occurs, discontinue use and consult a healthcare practitioner. When using this product, keep out of eyes. Rinse with water to remove. Keep out of reach of children. If swallowed, get medical help right away.
SUN PROTECTION MEASURES:
Spending time in the sun increases your risk of skin cancer and early skin aging. To decrease this risk, regularly use a sunscreen with a Broad Spectrum SPF value of 15 or higher, limit time in the sun, especially from 10 am-2 pm and wear protective clothing and sunglasses.
What is SPF Factor and how does it work?
SPF or Sun Protection Factor is a measurement of how well a sunscreen will protect the skin from UVB rays (the ultraviolet radiation that causes sunburn). Hence if your skin would normally burn after 10 minutes in the sun, applying an SPF 15 would allow you to stay in the sun for aprox. 150 minutes. The SPF factor, however, is not a linear measure and is dependent on the skin type of the user. Furthermore, an SPF of 30 actually only blocs 5% more UVB radiation. High-SPF products can create a false sense of security, and contain higher concentrations of allergenic or irritating ingredients and offer little additional sun protection. In practice, for best protection, experts recommend a minimum of SPF15. Sunscreen should also be re-applied after vigorous activity, and after swimming.
What is the difference between a physical barrier vs a chemical barrier sunscreen?
A physical barrier sunscreen (such as our Substance Sun Care products) physically blocks the sun's UV rays. These are often found in ingredients of titanium dioxide and zinc oxide. Often, sun blocks containing these two ingredients have been messy and opaque. Substance Sun Care products however, uses micro ionized zinc. This we feel is the safest & most effective option. It creates the same physical barrier, but is more transparent, and less messy when rubbed in. Physical barriers also have the added benefit over chemical sunscreen of blocking UVA rays. UVA rays penetrate deeper into the skins surface, increasing the risk of cellular skin damage. Most chemical sunscreens do not block UVA rays effectively. The best-known and proven UVA protection is provided by products that contain zinc oxide. Furthermore chemical sunscreens can be an irritant to sensitive skin. Zinc, on the other hand, has many beneficial properties including being anti-bacterial, and anti-inflammatory; beneficial to sensitive, delicate skin.
What are the differences between the two Substance Sunscreens?
In terms of its sun protecting, moisturizing, and skin-soothing properties, the Unscented Sunscreen is no different than our Natural Sun Care Creme. The only difference is that we have omitted our Essential Oil blend, for those who may have some sensitivities to scent. We do not use any artificial fragrances in our products. Please note that while our original scented formula acts as a natural insect repellent, our unscented version does not contain those same repelling properties.
Are the essential oils in the original Sunscreen safe for baby?
Yes all the essential oils in our Baby line are safe for babies. Essential oils have the value of not only smelling sweet and pleasant on babies skin (much more appealing than other synthetic fragrances used in over the counter sun care creams) but have the added benefit of being beneficial for you and baby! The essential oil blend in our Natural Sun Care Creme acts as a natural bug repellent along with helping to calm and soothe overexposed skin.
This is a final sale item. No exchanges or returns.
---
We Also Recommend
---