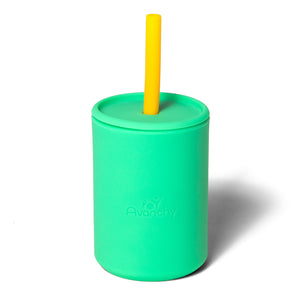 Avanchy Mini Silicone Cup
  Undeveloped motor skills make drinking challenging for little ones, as you well know. But sippy cups don't really teach kids how to drink from a regular cup. And you can't hand them a bottle forever. That's why we set out to design a better alternative: La Petite Cup, a 21st-century take on the sippy cup. First, we swapped out toxic plastic materials for safer silicone. Then, we gave this baby cup a more grown-up design, with an eco-friendly straw in place of a spout. Finally, we gave the cup angled bottom corners for extra stability. The bottom line: La Petite Cup makes the transition from bottles to cups easier for everybody. La Petite Cup's ultimate feature is dedicated airflow, which reduces the degree of suction needed to pull liquids through the straw. This makes drinking far easier for young ones. The straw also has a stopper on the end, so the straw can't be pulled out from the top. Another of Avanchy's mess-prevention innovations! And the cup's lightweight is easy for little hands to pick up and hold—no handles needed. When it's time to help your child progress to a traditional cup, you can simply remove the lid. Our silicone is odor-free, easy to clean, and lasts forever. Silicone cups and dishware can go in the microwave and the dishwasher—so convenient! The Avanchy Silicone La Petite Cup is suitable for children aged 6 months and up. What you get • Single Cup: 1 petite cup + 1 detachable silicone straw with stopper + 1 dedicated-airflow lid
SUPPORTS BLW: Our Mini Cup includes a lid and gentle straw to support baby led weaning. Toddlers learning to drink independently for the first time will enjoy the grown-up cup with the safety of our silicone design.
CLASSIC SHAPE, CONTEMPORARY DESIGN: Our Mini Cups are feature a classic, minimalist design. The simple shape is easy to hold for little hands and includes a lid and straw for easy child use.
LASTS A LIFETIME: Our mini silicone cup is an excellent option for kitchenware that is both safe for your family and will last for years to come. Promote healthy living for your family with this miniature silicone training cup.
SAFELY SOURCED: Our petite bamboo bowl is sourced from high-quality materials to help safely feed your baby. Our bamboo baby bowl is free from plastic, BPAs, and other harmful chemicals.
EASY TO CLEAN: This silicone infant cup features a seamless design that is easy to wash and dry. Our health-based mini cup is designed reusable and perfect for all occasions whether at home or on-the-go.
---
We Also Recommend
---