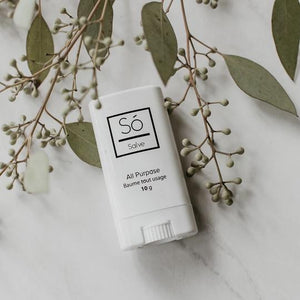 All Purpose Salve
 An all natural all purpose salve for healing, repairing and replenishing dry skin and protecting the skin's natural moisture barrier.  Relieves redness and itching due to dryness and improves the texture of skin.
NOTE: The Beagán (Little) size a plastic mini deodorant size (10g)

Ingredients: Butyrospermum Parkii (Shea Butter)*, Cera Alba (Beeswax), Cocos Nucifera (Coconut) Oil*, Cannabis Sativa Seed (Hemp) Oil, Arnica Montana (Arnica) Oil, Calendula Officinalis (Calendula) Oil, Symphytum Officinale (Comfrey) Oil, Azadirachta Indica Seed (Neem) Oil, Prunus Dulcis (Sweet Almond) Oil, Juniperus Ashei (Cedarwood Texas) Essential Oil, Pinus Sylvestris (Pine) Essential Oil*, Melaleuca Alternifolia (Tea Tree) Essential Oil*, Lavandula Angustifolia (Lavender)Essential Oil*
*Denotes Organic*
*PLEASE NOTE: This product will melt in warmer temperatures which will affect the consistency of the product but not the quality.  To re-solidify your product, place it in the fridge.  If you notice spotting on the surface, this is called Beeswax Bloom and does not affect the quality of the product. 
---
We Also Recommend
---