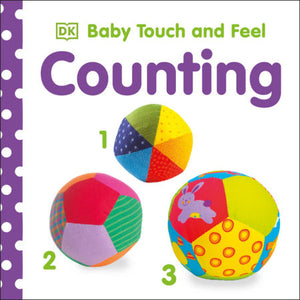 Counting - Baby Touch and Feel
 Count from 1 – 10 with this adorable touch and feel book. Each page has a cut-out texture or an eye-catching shiny area that is designed to inspire curiosity in small children and stimulate their senses!

The Numbers book goes from 1 to 10. Each page has the numeral, the number as a written word, and everyday objects like teddy bears, flowers, and butterflies. These are labeled in easy-to-read letters, to inspire early language development. Count out clouds or beach balls together, and find the textures with your fingers. 

All 12 pages have been made for your baby's hands, with easy-to-turn pages for growing fingers. The sturdy little book can handle being thrown around and chewed. The padded cover is soft and squishy for an extra-tactile experience, and to give the book some added toughness to survive rough play!

Packed full of exciting elements that encourage your baby to explore through touch and sight, there's lots of glitter and foil to catch the eye! Make reading and learning a fun activity by including the sense of touch. Some pages have textures like felt, and others have bumps and grooves to create a new experience on each page, all the while encouraging early motor skill development in babies and toddlers up to 3 years old.
 
---
We Also Recommend
---