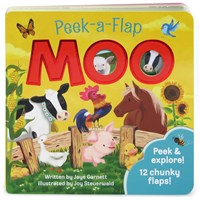 Moo- Peek-a-Flap Book
 Oink, oink! Moo! Meet all the friendly animals on the farm in this interactive Peek-a-Flap sturdy board book. Little ones will love exploring every farm-themed page filled with fun facts, new vocabulary words, and surprises found under sturdy lift-a-flaps while learning all about farmyard animals and their habitats along the way! Meet chickens, cows, ducks, roosters, horses, pigs, llamas, fish and more while touring the barn, pasture, field, and pond! Durable pages and chunky flaps are perfect for little exploring hands, which also help strengthen hand-eye coordination and fine motor skills. A lively, educational farm introduction designed to entertain and engage curious little readers. 
A must for little animal lovers! 
---
We Also Recommend
---