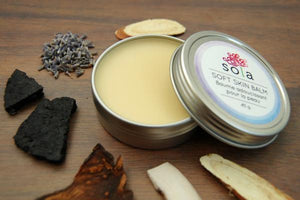 Sola - Soft Skin Balm
 This wonderfully hydrating and deeply moisturizing balm truly nourishes  dry skin. It has a warm, intoxicating but mild scent. This is a thicker  balm due to the high concentration of organic shea butter and beeswax.  We infuse organic olive oil with Chinese herbs (Shu Di Huang, Bai Shao,  He Shou Wu, Gan Cao) to deeply nourish and moisten the skin. This balm  is exquisite on the parts that do a lot of work, but don't get a lot of  love; elbows, hands and feet. I love to slather it onto my feet and  heels at night, cover with cotton socks and leave for an hour or even  overnight. My heels have never been so soft.

Safe for pregnant & nursing mothers. 
---
We Also Recommend
---