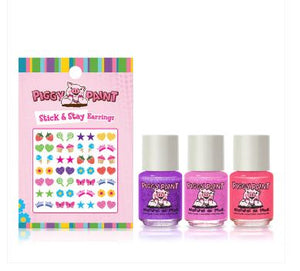 Piggy Paint Nail Polish Gift Set - Always A Bright Side
 Say good-bye to harsh, smelly chemicals and hello to Piggy Paint…it's as Natural as Mud!  This water-based nail polish  dries to a hard, durable finish that holds up during playtime and features an eco-friendly formula that's never tested on animals. It's also safe to use during pregnancy, so you can have worry-free manicures and pedicures...Oh, and it smells good too!! 

This set includes 3 x 0.25 oz bottles:   
Let's Jam 
Havin' A Blast 
Light of the Party 
PLUS Stick-on Earrings!
---
We Also Recommend
---